FIRST:
Sex and gender matter when it comes to migraines according to a report from Society for Women's Health Research.
Big takeaways from this Scientific American blog post on the report:
Migraines are three times more common in women
Women have longer migraines, more intense and are more likely to seek help from a doctor
Hormones, specifically estrogen play a big role
The estimated cost of debilitating migraines to the US economy is 78 BILLION DOLLARS a year!
This paragraph really stood out:
"Despite its high prevalence and burden to society, migraine remains a stigmatized disease. This is in part because the disease is "invisible" and predominately affects women, causing migraine to be perceived as less legitimate. The stigma has created gender differences in how women and men seek and receive care."
So many times, I've encountered folks who think I'm making the headaches up, or offer up any number of "simple" solutions. So irritating.
Read the full article here
NEXT:
In other "relief is coming" news, Anjovy another CGRP class migraine prevention drug was approved by the FDA! Brought to you from Teva Pharmaceuticals. The drug will be administered by injection, and with most new drugs on the market, looks pretty pricey at $575 a month!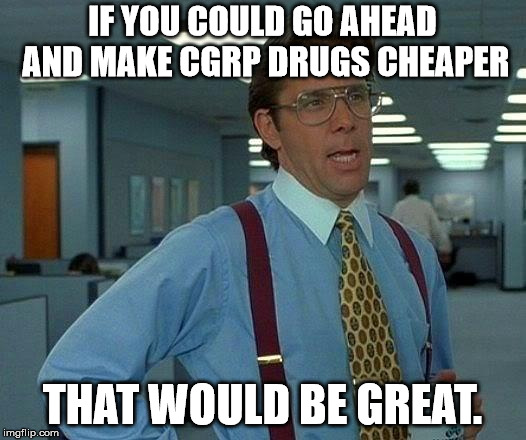 AND FINALLY:
Remember, migraines can make you feel miserable, but you as a person are not!
Listen to this awesome YouTube video of soothing headache, migraine, pain and anxiety relief